GIZMO POS, APP MANAGEMENT, REMOTE MANAGEMENT, SECURITY, CLIENT, REPORTING
What is Gizmo?

It used to be that the only way to manage your gaming center was to operate as many as three separate management software together. Not anymore! With Gizmo POS/PC Management Suite, you can easily reduce costs, simplify operating procedures, accelerate employee training, and so much more!
Gizmo is a unique Point-Of-Sale and PC management software for shared/public access computer providers such as gaming centers, eSports arenas, libraries, hotels, Internet cafés etc.
Why Gizmo?
Our team spent years developing the first truly management suite in the industry, designed to deliver the best customer experience and provide you with the most effective, efficient way to manage your business.
Our powerful, state of the art technology integrates seamlessly with any gaming management infrastructure already in place and adds all the necessary features for you to service your end users in the easiest, fastest way possible.
Gizmo is revolutionizing the industry with this easy-to-use software. Join the hundreds of satisfied customers from all over the world that are already using Gizmo with their gaming businesses today!
Features

POS                                                 
Configurable Product Types
Multiple Payment Options
Billing & Credit Options

Unified Apps
App Profiles
App Deployment
Remote management
Ease of Management
File Management
Process Management

Computer Security
Secured License Key Distribution
Security Event Logging
Client
Modern Client Interface with Dynamic Content
Dynamic Game Installation
Customer Convenience (Personal files)
Reporting
Sales & Income Reporting
Product Performance
Employee Performance & Shift Reporting


POINT OF SALE 

Configurable Products Types
Take control and manage your products according to your specific business requirements. Whether it's a simple or time-based sale, your product and product bundles are fully supported with our easy-to- use software.
With better product organization and management, you can implement multiple sales strategies at once and improve results.
Multiple Payment Options
Make it easier for your customers to pay.
Gizmo is fully integrated for use with barcode and NFC scanners, and supports all standard methods of payment. Plus, it allows for custom payment methods, such as a split payment option, a "Pay Later" option, and even an option to pay with loyalty points.

Billing & Credit Options
Create fully-customizable billing profiles and manage all your customer's billing and credit options at a glance.
You can choose between simple or complex rates, and set limits on individuals or groups, as needed. You can even switch to alternative rates during peak hours or off-peak hours. Need to set up fees, minimums, or minutes? Gizmo does that, too!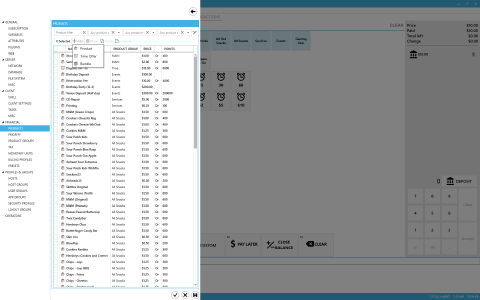 Promotions
Manage multiple promotions for your products, allow customers to pay using their loyalty points and select specific time periods or customer groups for promotions at the touch of a button.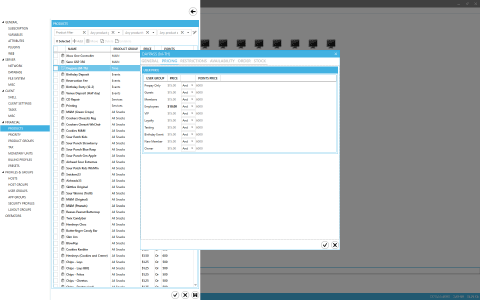 Hardware Support
Rest assured your business hardware will always be supported by Gizmo. Our program is compatible with a wide range of POS hardware devices, such as barcode scanners, cash drawers, and printers.
print
Asset Management
Keep costs down by tracking valuable assets like headsets, special keyboards, and other accessories that boost your business. Track who's using your asset, for how long, and what condition it's in before and after use.
Stock Control
Stay ahead of the game and on top of your business with real-time notifications about your stock availability. With Gizmo, you're in control and there's no need to second-guess.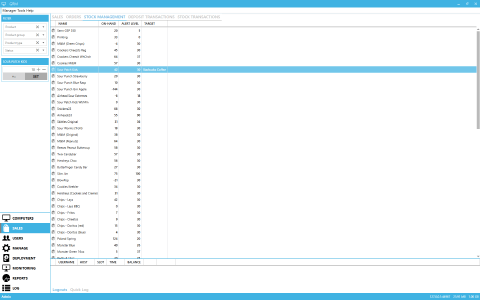 Product Groups
Just like you can group customers together, Gizmo lets you group products together in order to manage them more effectively. Now, it's easier than ever to manage reports and track your inventory.
Time-based Sales
Create custom time-based sales where you set the parameters, including specific times and dates. You can also configure sale expiration dates based on the date of first-time use, the purchase date, or calendar date.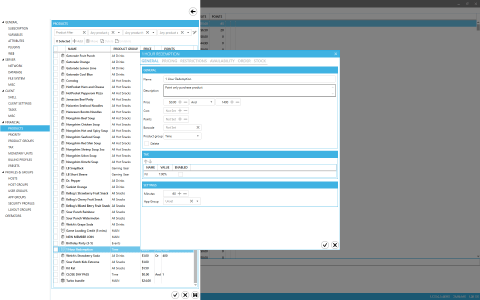 Sale restrictions

Besides time-based restrictions, you can also limit products or sales by customer group or expiration date. Perfect for managing seasonal promotions and sales!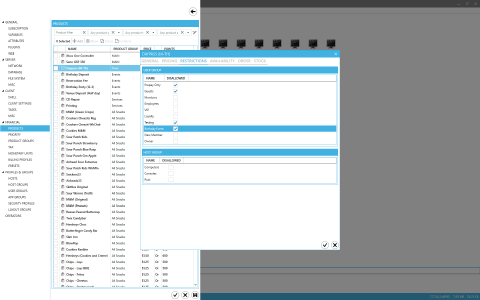 User Profiles
Fully customize and easily identify customers with detailed user profiles, including a customer photo, extended user information (e.g. user ID or Skype information), and even an in-store account to deposit and pay for purchases.
You can also add RFID smart card information to easily track customers using your RFID tagged assets.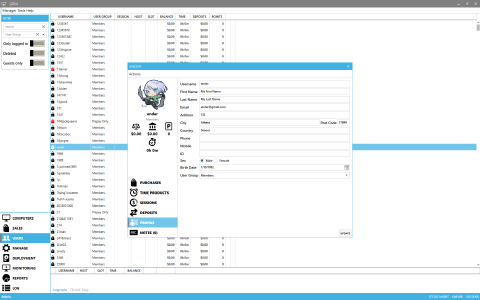 POS Interface
Employee-centric, touch-friendly POS interface with quick access features. Your team will love the look, feel, and intuitive design of Gizmo! And, you'll love how easy it is to manage!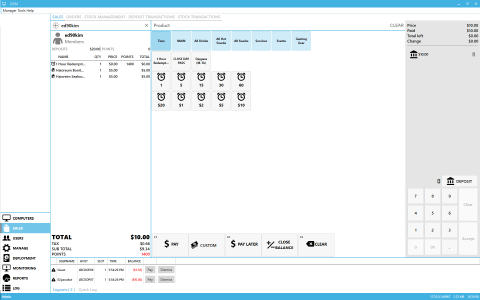 Loyalty Rewards
How do you retain your customers and give them the best user experience on the market? Reward loyal customers based on their purchases or billed time with Gizmo's points reward system. If you don't have one, create one now with Gizmo.
Managing your rewards system and applying loyalty rewards credit to purchases has never been easier.
Sales Tax
Adding sales tax and applying multiple tax rates to a sale can be cumbersome. Get it right the first time with Gizmo. Apply sales tax by state and add other applicable rates at your discretion.
Employee Security
Have you noticed unusual employee behavior? Track and audit employee actions quickly to find inconsistencies or faults at play. Don't wait until it's too late! With Gizmo, you can ensure that your business is running smoothly 100% of the time.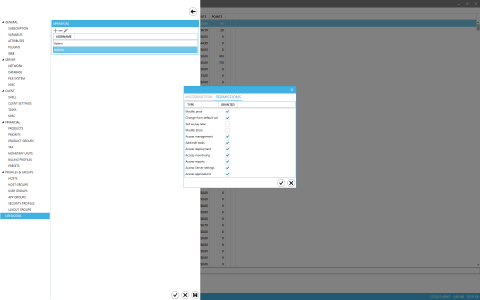 APP MANAGEMENT

Unified Apps
With Gizmo, you can organize multiple application executables under a single application entry.
By grouping game specific executables, your customer can quickly locate what they're looking for in any given application, ensuring a frustration-free customer experience.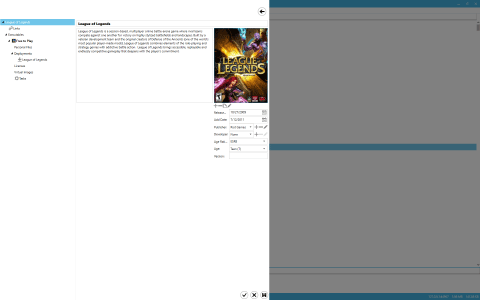 App Profiles
Create app profiles to restrict access to applications based on the user or computer group. With Gizmo, controlling access to applications is a breeze! Point and click, drag and drop, and just like that, it's done!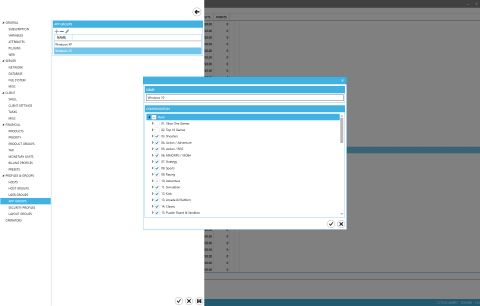 App Deployment
Don't inconvenience or discourage your customers with crash-bound methods of operation. Automate application installation and updates with flexible, convenient deployment functions that ensure flawless execution and delivery every time.
License Management
Quickly and easily set up license management for different games and distribute license keys dynamically with custom plugin support.
Personal Files
Gizmo allows you to create and store personal files for your customers.
Now, you can keep desired application-related data such as settings, favorite apps, or saved games stored and roaming for your customers' convenience.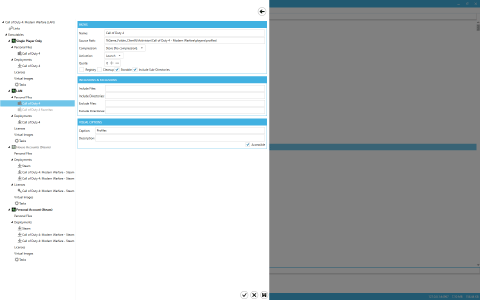 Task Automation
Save time by automating tasks. Set specific triggers for launching several tasks across one or multiple applications and schedule recurring tasks to be executed as needed.
Disk Space Cleanup
Speed things up with more disk space. Automatically remove less used applications from your hard drives when full and make to facilitate a customer need. Don't keep them waiting!
REMOTE MANAGEMENT

Ease of Management
Acquire a live view of any computer screen with live monitoring and transfer files to computers remotely on the fly using the file deployment operations offered by Gizmo.
View, monitor, and control remote process execution with just a few clicks of your mouse!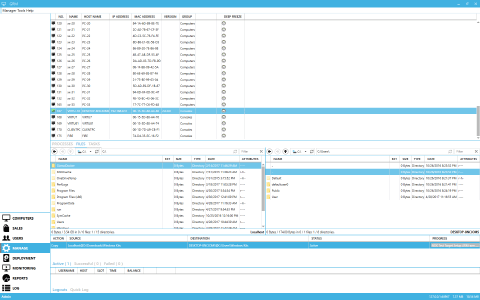 File Management
Gizmo offers clients the latest in remote management technology.
With Gizmo, you're able to effortlessly manage local and remote files on your computer and execute remote actions at the touch of a button. Anywhere, anytime.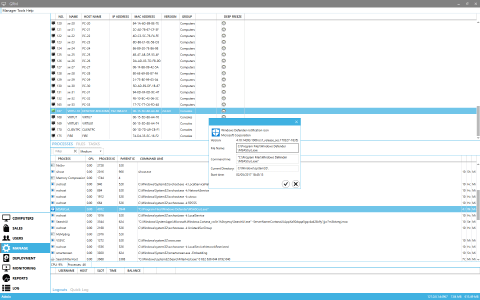 Process Management
Terminating an unwanted process is simple with Gizmo. Set parameters to list or terminate multiple client computer processes at your discretion and get rid of unwanted processes fast!
Screen Monitoring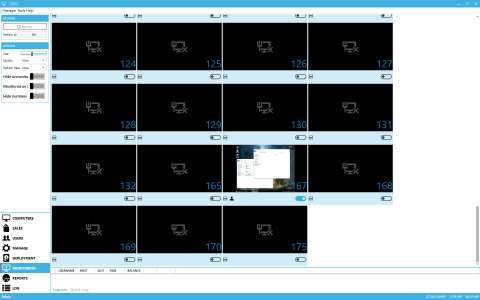 Improve performance and gain insight into customer experience with real-time screen monitoring. Gizmo gives you the ability to monitor your clients' computer screens remotely and take real-time screenshots.
Manual Deployment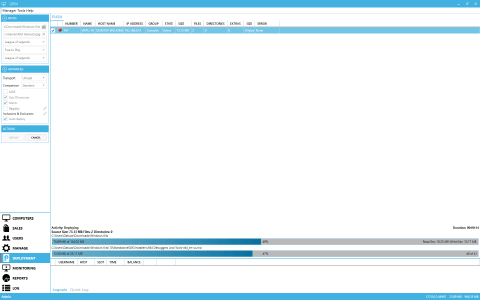 Manually deploying a single file or an entire directory to a single or multiple computers is no sweat with Gizmo. Point and click, select your file/s and send away!
Remote Control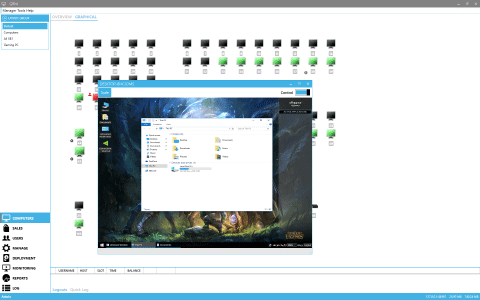 Control your computer hosts remotely. Provide assistance to your customers without leaving your post!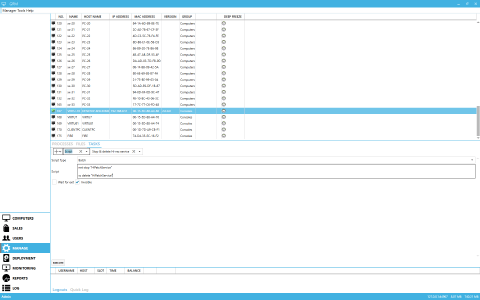 Tasks & Remote Task Execution
Instantly manage and execute preconfigured tasks based on system events or launch preconfigured tasks remotely at the touch of a button.
SECURITY
Computer Security
Misuse and malice can compromise your computer security. With Gizmo, you can keep threats at bay and your computer systems clean by blocking unwanted processes or user actions.
Secured License Key Distribution
Our unique software allows you to protect your license key assets from being stolen with secured distribution of license keys. Your customers are protected and able to make purchases with confidence with Gizmo!
Security Event Logging
Get up-to-the-minute information on security events that may have occurred. For example, let's say you banned a certain executable but a client attempts to execute it anyway, Gizmo will notify you automatically as events occur.

Employee Restrictions
Safeguard sensitive information and effectively manage your team on one screen. Gizmo lets you manage employee access and issue special permissions or restrictions to an individual or group to better control your valuable business assets.

Auditing
Get the complete picture with our powerful risk-based auditing tools and access all financial transactions data at glance, in a way that's easy to understand and manage.
CLIENT
Modern Client Interface with Dynamic Content
Superior client service starts with Gizmo. A modern interface lets clients customize with their own skins and supporting a range of multimedia tools. Now, your clients can easily access user ratings, top applications, most used applications, app search, and new additions.
What's more, clients will be provided with personal disk space to recover saved data even faster.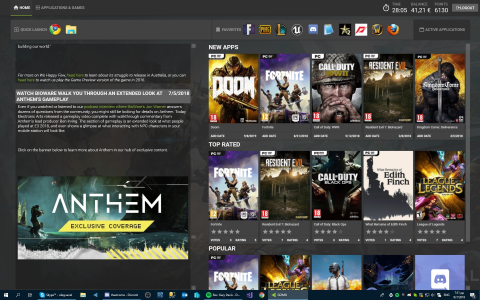 Dynamic Game Installation
Deploy your applications live or manually, while distributing your application and/or game licenses dynamically. Gizmo supports popular game distribution networks such as Steam, Origin, Uplay, and others. Secure and protect your application license keys with our custom license management plugins.

News
Your best customers are engaged customers. With Gizmo, you can sync your RSS feed and keep you customers up-to-date with the latest in store news and special promotions.
CCBoot and Diskless support
Leverage from full support for CCBoot and similar diskless booting solution.
For more info visit CCBoot
Customer Convenience (Personal files)
Gizmo automatically (or, on-demand) saves and restores customer application data or game-specific files so your customers have peace of mind always.
For even greater customer satisfaction, you can also offer secure storage to select customers with a specific storage quota and roaming support.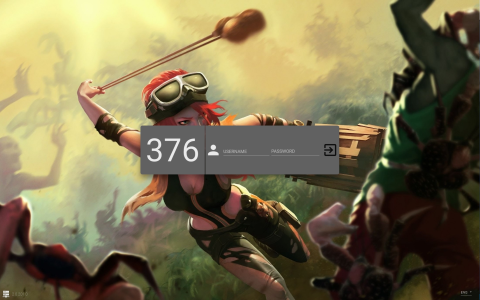 Client Security Policies
Easily create, modify, or delete client security policies and apply security restrictions based on a particular customer or computer group.

App Group Restrictions
Limit access to applications from specific customers based on a specific customer or computer group. Set the limits you desire for as long as you need with Gizmo.

Age Rating
Make sure your programs are being used by their target audience and not children, if it's inappropriate for them. With Gizmo, you can deny access to R-rated applications to underage customers at your discretion.
REPORTING
Gizmo provides you real-time, detailed reports for all the major activities or events that occur in to your business, such as:
Sales & Income Reporting
Instantly gain better insight into how your store is performing based on economic factors. Compare this year's sales to last, anticipate when sales might slow down or speed up throughout the year, and stay up to date and organized with income reports.

Product Performance
Don't rely on a hunch or gut feeling! Be fully aware of your product's performance and decide whether to restock or repeal based on profitability.
Employee Performance & Shift Reporting
Know who's working for you and who's not. Track employee performance and profitability based on the number of shifts reported during a certain period.

Build a Community
Monitor and record application usage statistics for any installed application/game. When using Gizmo, your customers are able to check out what other customers like the most, as well as which games or apps are trending at the moment!

Stock Reporting
Get up to the minute information about the usage and profitability of your products and manage your stock better by knowing ahead of time whether a shortage might occur.

Licensee Accounts Usage
Know which customers use certain licensee accounts and monitor the duration of use to prevent unauthorized account purchases.